Witch Cream
$

8.00
Sold out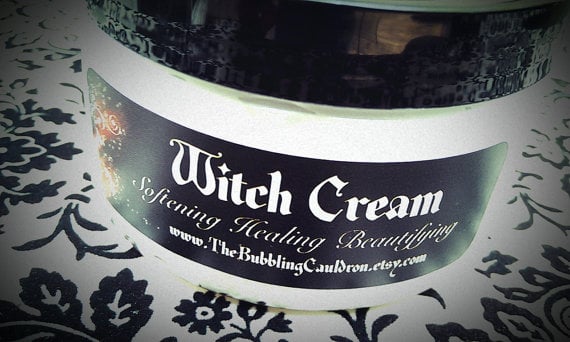 This delightful hand and body Witch Cream is made with enchanting Belladonna, virgin's tears, shea butter, aloe, silk amino acids, sunflower & coconut oils. This lotion does not contain mineral oil, and is neither sticky nor greasy on the skin. Spread this onto your skin for a beguiling and bewitching experience!
4 Ounce Jar
The scent options are:
✤ Zombie:This scent is an invigorating blend of spearmint, eucalyptus, peppermint and ginger.
✤ Witches Brew: This scent is a warm and delightfully dark blend of Patchouli, Cinnamon, and Cedarwood.
✤ Chamomile & Neroli: The scent is an euphoric blend of Chamomile, Neroli & Petitgrain that will make you feel young again!
✤ Black Amber: A dark and enchanting blend of black amber, clove, nutmeg and musk.
✤ Nag Champa: This scent is an exotic bouquet of sandalwood, champa flowers, violet and clove delicately blended with patchouli, sensual amber, ylang ylang, and musk.
✤ Poison Apple: Crisp poison apple, cinnamon, orange and clove... such a deadly delight!
✤ Orange Clove: This is a warm wonderful blend of orange and spices of ginger, cinnamon and clove.
✤ Mermaid's Kiss: This scent is a blend of daylily, sea spray, watery florals and musk. It will bring you an exhilarating ocean experience in the shower or bath.
✤ Carnival: This is the scent of sugary cotton candy. Come one come all.
✤Gingerbread: Ground ginger and white spices blended with warm vanilla, but beware of the hungry witch!
✤ Steampunk: The wild west richness of sandalwood and quasi-Victorian notes of dark patchouli.