Body Spray - Alcohol Free
$

9.00
Sold out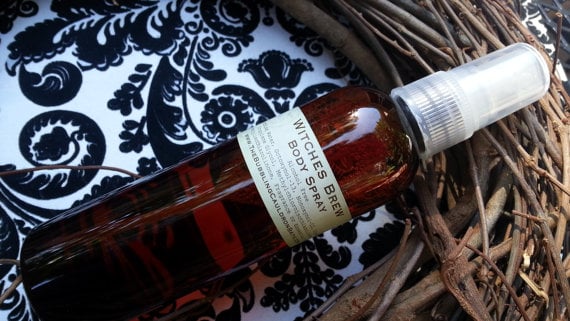 Spray this body spray anywhere that needs a little extra ooh la la! Made with genuine witches brew, and also a delightful combination of arsenic and snake venom (shake well). Choose your favorite bewitching scent below.
4 Ounce Bottle
The scents are:
✤ Witches Brew: This scent is a warm and delightfully dark blend of Patchouli, Cinnamon, and Cedarwood.
✤ Vampire's Kiss: This is a dark and alluring scent of sexy vanilla and musk and will help to make you feel drop dead gorgeous!
✤ Red Currant & Thyme: The scent is a warm and fruity blend of red currant and thyme, take thyme to enjoy this delightful scent.
✤ Euphoria: This beautiful scent is a floral blend of Jasmine, Rose & Sandalwood.
✤ Nag Champa: This scent is an exotic bouquet of sandalwood, champa flowers, violet and clove delicately blended with patchouli, sensual amber, ylang ylang, and musk.
✤ Chamomile & Neroli: This scent is an euphoric blend of Chamomile, Neroli & Petitgrain that will make you feel young again!
✤ Lavender Lemongrass: This scent is a rejuvenating blend of Lavender and Lemongrass that will make you feel refreshed and revived!
✤ Lavender & Pumpkin Pie: There was a recent study on what scent turns men on the most, and believe it or not.... a combination of pumpkin pie and lavender topped the charts! I have created a scent combination that is made with these scents. Not sure why men prefer this, but if it works then why not!
✤ Vanilla Pumpkin: A warm blend of fresh vanilla bean, rich caramel, soothing cream, pumpkin puree, and freshly ground nutmeg. A truly enticing blend!
✤ Death By Chocolate: A decadent blend of dark chocolate and vanilla. Deathly delicious!
✤ Witch Bouquet: Rich ylang ylang combined with Jasmine and creamy vanilla in this exceptionally beautiful floral fragrance.
✤ White Witch: This scent is a blend of exotic spice and beautiful Jasmine, and smells similar to white tea and ginger.
✤ Zombie: This scent is an invigorating blend of spearmint, eucalyptus, peppermint and ginger.
✤ Dark Forest: This smells like an enchanting dark forest at night. Just beware of the werewolf!
✤ Black Amber: A dark and enchanting blend of black amber, clove, nutmeg and musk.
✤ Sugar Plum Faerie: Delicious sweetened plum sprinkled with orange zest, cloudberry, vanilla and sugared musk. Complete with faerie wishes!
✤ Frankincense & Myrrh: Traditional rich blend of frankincense with myrrh, splendid for the holiday season, or any season!
✤ Sugar Witch: This is a blend of brown sugar, vanilla, caramel and cream, smells so deliciously divine!
✤ Poison Apple: Crisp poison apple, cinnamon, orange and clove... such a deadly delight!
✤ Orange Clove: This is a warm wonderful blend of orange and spices of ginger, cinnamon and clove.
✤ French Vanilla & Amber: Sensual creamy vanilla and warm amber blended with cedarwood, oak, sandalwood, and patchouli. Truly magical!
✤ Killer Queen: This scent is beautifully bold with notes of plum, red velvet flower, tempting jasmine and dark patchouli. Truly irresistible yet deadly.
✤ Mermaid's Kiss: This scent is a blend of daylily, sea spray, watery florals and musk. It will bring you an exhilarating ocean experience in the shower or bath.
✤ Haunted Garden: This is a beautiful scent blend of roses, violets, ghosts and gardenias.
✤ Carnival: This is the scent of sugary cotton candy. Come one come all.
✤ Steampunk: The wild west richness of sandalwood and quasi-Victorian notes of dark patchouli.